Home Remodeling Project Updates (9/28/2011)
Kitchen / Bathroom Remodel
Steve Way Builders, LLC is nearing completion on a kitchen and bathroom remodeling project in East Lansing, Michigan. The kitchen, bathroom, and mudroom are awaiting final paint to complete their newly-designed home transformation. The last "Home Remodeling Project Update" left us with kitchen and bathroom cabinets waiting to receive counter tops and final trim.
Currently, the remodeled kitchen is 95% complete. The cabinets have all of the trim work completed, including crown moulding, furniture base, and shoe mould. The nail holes have been filled to complete the final detailing of the kitcen. Last week, the quartz kitchen counter tops were delivered and installed, which allowed for the sink and faucet to be connected. Also completed last week was the ceramic tile backsplash with accent tiles. These main additions to the kitchen are really starting to show its finished appeal.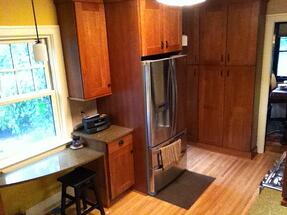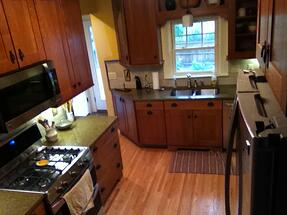 The upstairs full bathroom is nealy complete as well. The bathroom vanity sink and counter tops are now installed. The paint on the walls, trim, and wains coat is also completed within the bathroom. The only thing this remodeled bathroom is missing is the mirror, which is scheduled for delivery next week.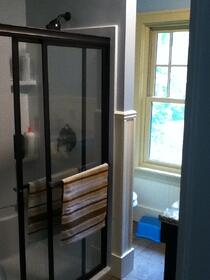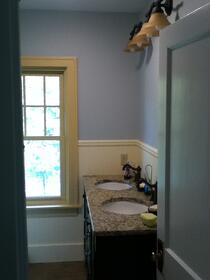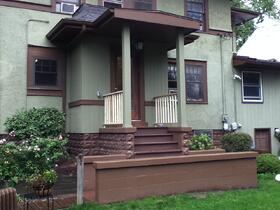 Work in the rear entry mudroom is being completed as custom lockers and shelving have been built and installed. The maple locker units have been stained and custom doors are being made to match the kitchen cabinets. Outside the mudroom, the temporary deck and stairs have been removed and replaced with composite decking by AZEK Building Products. The mudroom will be completely finished this week as it will receive its final coat of paint.
Once these portions of the home are completed, the major remodeled areas will be finished. The final step for the project will be the installation of wall cabinets in the laundry room and an encased shelving unit with glass shelves in the living room. By the end of next week, this project will be completed and Steve Way Builders, LLC will be moving onto another project.
With this home nearing completion, what is your favorite part of the remodeling project?
Brad Way
Marketing and Sales Representative
Steve Way Builders, LLC - The Remodeling Specialist