3 Dimensional Design - Tri-Level Home Addition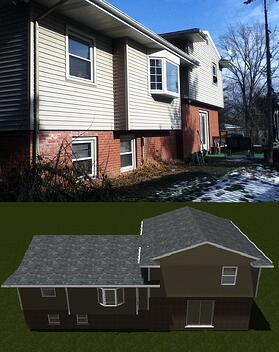 Steve Way Builders, LLC was contacted by the home owner's of this home in Lansing, MI to explore ideas for two additions on their tri-level home. The additions would be added onto the back of the home, and would overlook the inground pool in the backyard.
The first step to create an accurate representation of the true potential of their hopeful addition projects was to produce a 3 Dimensional version of their current home (as shown on the right). Once the base drawing was created, the new additions could be added and adjusted freely to the customers liking.
The first request of the home owner's was to create a large master bedroom on the top floor. To achieve this, we proposed to double the floor area of the original master bedroom by adding on a 14' X 18' addition to the top level of the home. The new area would provide a whole new living area in the bedroom with large double hung windows to overlook the backyard pool. The new addition would be supported with decorative structural columns.
The second request was to provide a large area for entertaining guests in the kitchen and dining room area. The original kitchen area on the middle floor of the home only provided enough room for a small eating nook with a small bay window. The new space would be expanded on by adding a 14' X 20' addition on the middle level. The new space would feature hardwood floors, new windows, and a seamless transition from the kitchen to the new space. Similar to the master bedroom addition, the new space would be supported by structural colonial columns.
The last request for the home renovation project was to provide a deck area with direct access to the backyard inground pool area. The new deck addition would be accessible through a 6' sliding glass door that would be attached to the middle floor home addition. With the limited space remaining on the back of the home, the deck would be roughly 9' X 14' and would have a turned stairway to the patio area of the pool. When all is said and done, the new additions to the home feature over 500 SF of living space, 125 SF of deck area and a complete transformation to the back of the home.
Homes 3D Design Photo Gallery
3 Dimensional designs from multiple angles of the homes two additions and deck are featured. (click on the images to enlarge)