Steve Way Builders, LLC - Historical District Kitchen Remodel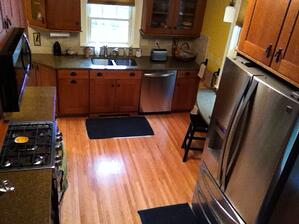 Being part of a Historical Neighborhood, keeping this home's historic appearance was the top priority for Steve Way Builders, LLC in this kitchen remodeling project located in East Lansing, Michigan. All exterior renovations for this project were cleared by the Historic Commission, and all interior renovations were designed to provide new innovations while maintaining the architectural integrity of the home.
The original kitchen of the home was cramped and begging for more space. To open up the room, the kitchen was combined with an adjacent hallway and half bathroom. The walls were removed and the entire space was demolished down to bare studs and subfloor. The old plumbing from the bathroom was removed, as well as the out-of-date electrical work in the kitchen. The kitchen sink, stove, and refrigerater remained operational during the entirety of the demolision process.
The completed kitchen featured many upgrades to both energy efficiency and home decor. The first energy upgrade in the kitchen was the installation of wall insulation. Being a home built in the 1920's, no insulation was used in the original contruction. A complete set of new Frigidaire appliances also provide additional energy saving opportunities. Three Quaker windows with true divided lights and insulated glass were installed in the kitchen to keep the exterior historic appearance of the home in tact.
The kitchen cabinets installed were supplied by Mid-Continent Cabinetry. The cherry cabinets are furnished with square, flat panel doors to keep with other interior trim areas of the home. The kitchen cabinets feature spice racks, tray dividers, cook book compartments, as well as a few glass doors and self closing drawers. The cabinets are topped with granite counter tops and feature a ceramic tile backsplash with accent tiles. 1 1/4 inch oak furnishes the kitchen floor. The flooring was sanded and sealed to match the rest of the home.

Made in America Products: Quaker Windows, Moen (Kitchen and Bath Fixtures/Grab Bars)

See more from this home remodeling project:
Bathroom Remodel, Mudroom Lockers, Shadowbox Shelving Units, Mudroom Addition
| | |
| --- | --- |
| Before Pictures | After Pictures |