Steve Way Builders, LLC - Re-Designed Kitchen Area Remodel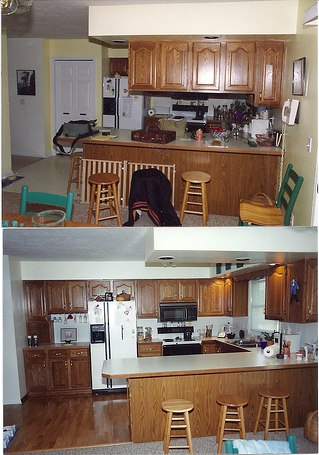 Kitchen remodeling projects are one of the most expensive remodeling projects per square foot, second only to bathroom remodeling. When the costs of remodeling are too high and you need to save little extra money, re-designing your kitchen space can provide you with a cost effective way for remodeling your kitchen.
Steve Way Builders, LLC was contracted to do just that for this home located in Haslett, Michigan. The homeowners wanted the appeal of a complete remodeled kitchen while maintaining costs. Re-designing the kitchen provided the perfect response.
The first step of renovation for a larger kitchen area was to remove a framed in pantry closet and doorway. This provided more room for extra cabinets and counter top space.
A second area of improvement was to open the kitchen up to the attached dining room. This was achieved by removing the hanging cabinets above the kitchens peninsula counter space. Can lights were then relocated to be centered above the counter.
To give the newly designed kitchen a complete remodeled finish, the entire kitchen was painted and received new hardwood floors.
These small changes show how a slight design change can create the appearance of a fully remodeled kitchen while maintaining cost efficiency.