Home Remodeling Project Updates (8/19/2011) Part 2
Kitchen / Bathroom Remodel
If you have been following along with the previous addition of "Home Remodeling Project Updates," you will be glad to see that Steve Way Builders, LLC is moving right along with this Kitchen and Bathroom Remodel in East Lansing, Michigan. If you need to catch up, here's a brief description of the remodeling project.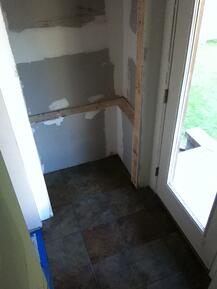 The original kitchen and adjacent half bath have been demolished and joined together to make into one large, redesigned kitchen that includes new oak flooring, cabinets and counter tops, windows, and appliances. The upstairs full bath is also being completely remodeled and features a double vanity sink, 4 foot fiberglass shower stall, and ceramic tile flooring. The original rear entry will transform from a covered porch into an enclosed mudroom with cermamic tile floors and custom shelving.
Now for the newest updates. The ceramic tile floors in both the bathroom and the mudroom addition have now been installed. Resilient floor heating mats have been installed underneath the ceramic tile in both the bathroom and mudroom. The drywall in is now completely finished and sanded througout the entire project, allowing for painting to make it's stamp on this home remodeling project. The kitchen, as well as the the exterior vertical siding of the mudroom addition, have received their base coats of paint. The paint on the masonry block walls outside the mudroom is completely finished with paint after receiving two coats.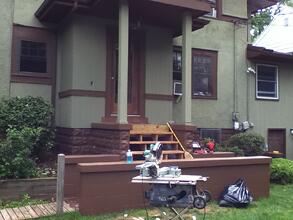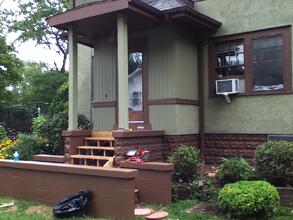 The main focus now is within the kitchen remodeling portion of the project. As stated earlier, the base coat of paint has been applied to the walls and ceiling. The hardwood oak flooring has also been installed. This makes room for the kitchen cabinets to be installed. Currently, all of the base cabinets are set in place, and the upper wall cabinets are next in line. The maple kitchen cabinets have a cherry color and a harvest finish.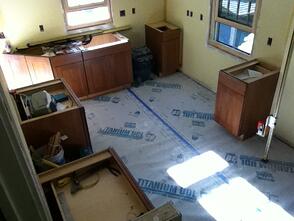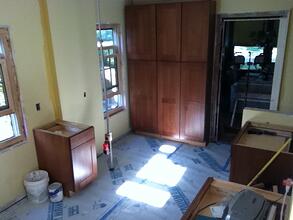 Next in line for this home remodeling project is the completion of the kitchen cabinets, as well as getting the counter top scribed and cut, so that it can be installed. The painting also needs to be completed for the bathroom, mudroom, and wood siding, and the second coat needs to be applied in the kitchen.
Every day is exciting as this project gets a little closer to a final product. What questions do you have about the completion of this project? Let us know in the comments section below. Or give us a call to schedule your home remodeling project today!