Bathroom Remodel with Fiberglass Walk-in Shower Unit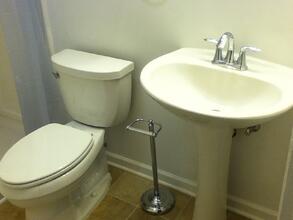 This home, located in Grand Ledge, had a bathroom that was nearly uninhabitable. The space was cluttered with trash and debris, and the tub and sink were stained and unaccessible. The owners contacted Steve Way Builders, LLC to construct a bathroom that can be livable once again.
To help reduce the cost of the final project, the owners elected to demo the bathroom on their own. Once the bathroom was down to bare studs, Steve Way Builders, LLC began work on building the new bathroom.
The bathroom plumbing was completely reworked. The old, deteriorating waste pipes were removed and replaced with pvc. The old water suppy lines were also replaced and re-routed with new copper lines. The bathroom's electrical wiring was removed and rewired to comply with new building codes.
The completed bathroom features a walk-in shower unit supplied by Sterling. The shower is easily accessible with a low front edge, shower curtain rod, and grab bars. A Kohler toilet sits between a Mansfield pedestal sink. Moen chrome fixtures were installed for the sink and shower faucets. The bathroom floor received a premium vinyl flooring. There was very limited space for a linen closet in the bathroom, so to provide for storage, a medicine cabinet and shallow wall cabinet were installed over the sink and toilet, respectively.
Once completed, this bathroom went from a health hazard space to a clean, practical bathroom area.

Made in America Products: Moen Fixtures (Sink and Shower Faucets), Mansfield Pedestal Sink