Steve Way Builders, LLC - Custom Mudroom Locker Cabinets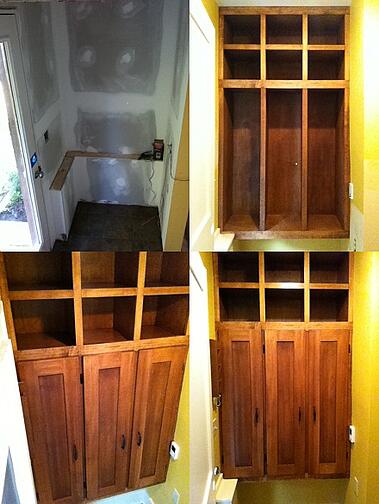 These locker cabinets are part of a large home remodeling project located in East Lansing, Michigan. The custom lockers are designed for separate storage areas for the family's three children and furnish the addition of the homes new mudroom. The space was created by transforming the homes original covered porch in the backyard into a mudroom for the rear entry of the home.
The locker cabinets are separated into three divided sections for the family's children. The main section of the locker is designed for storage of coats and bookbags and is covered by a custom built door to match the cabinet doors of the home's newly remodeled kitchen. Miscelaneaous items can be stored in the two open storage compartments above the coat and bag areas. Room is also available for boots and shoes underneath the custom cabinetry on the ceramic tile flooring of the mudroom addition.
The mudroom's locker cabinets are made of 3/4 inch birch plywood and birch trim pieces. The dimensions were obtained and the cabinets were built outdoors and slide into place when finished. Once in place, they received a custom mixed wood stain and clear coat sealer to match the remodeled kitchen cabinets. The cabinet doors were also made of birch with dimensions to match the homes new kitchen cabinets.
More from this remodeling project:
Bathroom Remodel, Kitchen Remodel, Shadowbox Units, Mudroom Addition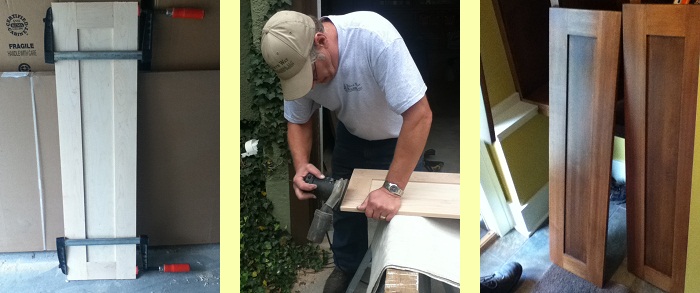 ____________________________________________________________________________________________________