Kitchen, Living Room, and Office Remodel - Interior Photos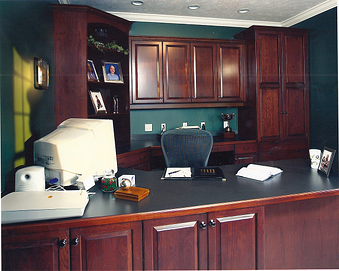 Several interior improvements occurred during this home addition. The first was to change the current dining room into a fully functional office (pictured right). This would include new flooring and doors, as well as cabinetry and counter tops to create a custom designed desk.
One major change that underwent was the main floor kitchen/living room area. The kitchen was custom designed and included new cabinets, counter tops, hardwood floor, and appliances.
The living room area received new hardwood flooring and carpeting. The windows were replaced and a sliding glass door was put in to provide access to the deck. The living space was increased by 600 square feet and opened into the remodeled kitchen which featured new cabinets and appliances. This allowed for a more spacious and decorative main floor. The basement living space also increased by 600 square feet with the addition in the living room.
Click on images to view in full size. Page - 1, 2 2003 Parade of Homes - Page 2 ___________________________________________________________________________________________________
Remodeled Living room
Remodeled Kitchen
___________________________________________________________________________________________________
Page - 1, 2 2003 Parade of Homes - Page 2