Home Remodeling Project Updates (9/2/2011)
Kitchen / Bathroom Remodel
Steve Way Builders, LLC is starting to complete finishing work on a Kitchen and Bathroom Remodeling project located in East Lansing, Michigan. This remodeling project has consisted of completely demolishing the original kitchen and bathroom in order to create newly designed areas within the home, as well as the addition of a mudroom and rear entry area.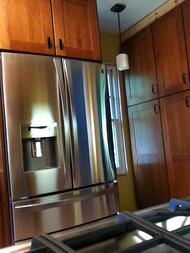 The last "Home Remodeling Project Update" showed the initial installation of the kitchen cabinets as well as the newly installed oak hardwood flooring in the kitchen area. The painting had also been completed in the kitchen. The upstairs full bathroom had received new ceramic tile and was awaiting to be painted. The ceramic tile in the mudroom had also been installed and paint is to be completed at the same time as the bathroom.
Now for the most current updates for this kitchen and bathroom remodel, starting in the kitchen. The rough installation of the Mid Continental Cabinets have been completed and finish work has been started. The finish work includes crown moulding, toe kick, and hardware for the cabinet doors and drawers. The kitchen appliances have also been delivered and installed. The dishwasher is set in place but will not be installed until the new sink and counter tops are delivered. All the finish electrical work is completed within the kitchen area. The only thing left for this kitchen remodel is the remaining crown moulding, base and window trim, and lastly, the sink and counter tops which are currently being scribed.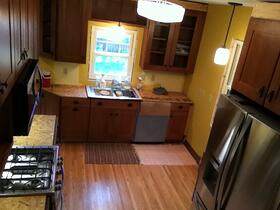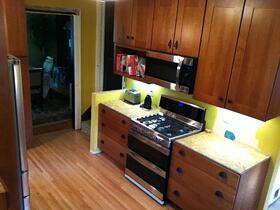 The upstairs bathroom has also had some drastic changes since the previous remodeling update. The fiberglass shower is now complete with fixtures and a sliding glass door. The toilet stool has also been installed, as well as the double sink vanity. The painting has been completed, and a decorative wood wains coat is currently being installed. The finish electrical work is close to being finished, but is on hold until the bathroom fan light is vented to the outside. The next steps for this bathroom remodel includes the completion of the wains coat, base and window trim, and the sink and counter top.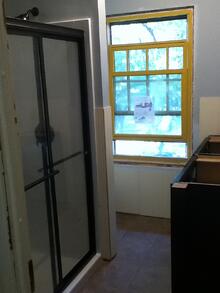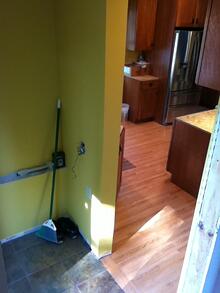 The mudroom and rear entry addition has received its final coat of paint for the interior walls, and is awaiting the completion of the custom shelving units. The electrical work has been completed. The exterior walls have one coat of paint finished and will receive a second coat at a later date. The composite deck material will be delivered early next week and will be installed by the end of the week.
The homeowners, as well as ourselves, are really excited as this home remodeling project is getting closer and closer to being a finished product. Check back in a couple of weeks for the next addition of our "Home Remodeling Project Updates."
Until then, what questions do you have regarding this project? Leave a comment below, or ask us a question to get your dream home makeover started today.