Mudroom Addition w / Porch and Deck - Interior Renovations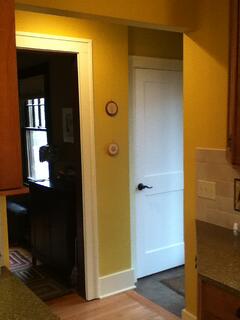 Once the mudroom addition was framed in, the interior changes could begin. To create a larger opening from the original home into the mudroom, the original exterior steel door, as well as the header, was removed to provide a seamless ceiling transition into the mudroom. A new wall was framed on one side of the room to provide for a closet. After electricity was run and the walls were filled with insulation, drywall was hung, sanded, and finished.
The completed mudroom features 12 inch ceramic tile flooring heated by an underfloor radiant heating unit controlled by a thermostat installed in the mudroom. Plenty of storage is available for coats and other items in the closet built on one side of the mudroom. The opposite side of the mudroom features custom built locker cabinets and upper storage compartments. The lockers were designed by Steve Way Builders, LCC to match the new cabinets installed in the adjacent kitchen.
See more from this remodeling project:
Mudroom's Exterior, Mudroom Locker Cabinets, Kitchen Remodel, Bathroom Remodel, Shadowbox Shelving Units